Shortlist of the ten best purple weed strains to grow. The best purple-colored marijuana buds. For sale as feminized seeds. Fast USA shipping.

The best purple strains of marijuana can actually grow purple colored buds. Known as "the purps", these purple cannabis strains are in high demand with marijuana buyers and sellers for their unique purple color scheme. Our list contains the top ten best purple marijuana strains to grow from seed.
---
1. Grand Daddy Purple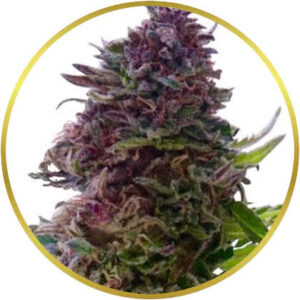 Sit back and admire the royal majesty that is the Grand Daddy Purple strain, commonly abbreviated as GDP. A timeless classic, GDP showcases a rich, deep purple coloration draped in frosty trichomes that look like a fresh dusting of snow on a royal purple cloak. With its sweet, grape, and berry aroma, this strain is a treat to your senses even before you partake. Indoors or outdoors, GDP is a sturdy strain known for producing high yields. With its powerful, calming effects and a THC content often reaching 23%, this strain is perfect for unwinding after a long day.
---
2. Purple Kush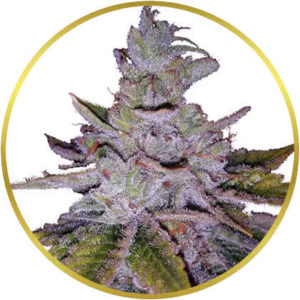 Welcome to the lavish world of Purple Kush. This strain's vibrant purple leaves and buds are like a visual feast, and its earthy, sweet scent adds a captivating layer of mystique. 100% Indica, Purple Kush provides a pure, blissful, and long-lasting sedative experience, making it ideal for relaxation and nighttime use. Notoriously high in THC (up to 22%), this strain requires moderate growing skills and is a fantastic addition to any home grow setup.
---
3. Girl Scout Cookies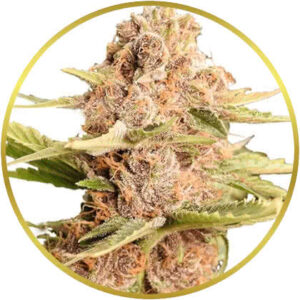 Not exactly purple all over, but Girl Scout Cookies (GSC) carries its own charm with stunning purple highlights woven into its iconic green buds. Its sweet, earthy aroma, often laced with notes of baked goods, is nothing short of mouthwatering. This strain gives a beautifully balanced high, thanks to its near 50/50 Indica/Sativa makeup. A well-grown GSC plant can produce THC levels that range up to a whopping 28%, offering a potent cerebral high followed by full-body relaxation.
---
4. Purple Haze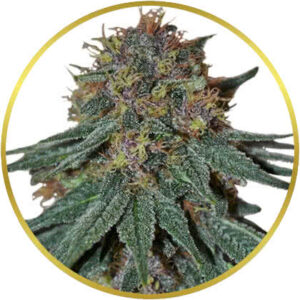 Let Purple Haze take you on a trip to the colorful, psychedelic days of the 60s. This Sativa-dominant strain, with vibrant purple and green buds, produces a sweet, earthy aroma that's reminiscent of rich soil and fresh berries. Known for its uplifting effects, Purple Haze sparks creativity and euphoria while taking the edge off stress. Easy to grow with a high THC content of 20%, it's an excellent choice for beginner growers looking for a strain that brightens up both their garden and their mood.
---
5. Blackberry Kush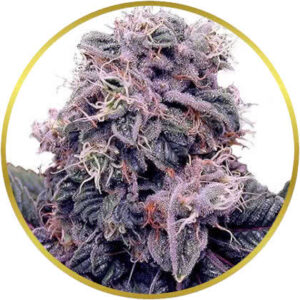 Blackberry Kush is a striking blend of beauty and potency. Its dense, hard nuggets are coated with a rich indigo and purple hue that's simply mesmerizing. This strain is widely loved for its mouthwatering sweet berry scent, layered with earthy undertones that translate into a smoothly flavorful smoke. Predominantly Indica, Blackberry Kush offers a strong, euphoric high that transitions into a peaceful slumber. A good fit for intermediate growers, this strain promises generous yields and THC levels around 20%.
---
6. Purple Punch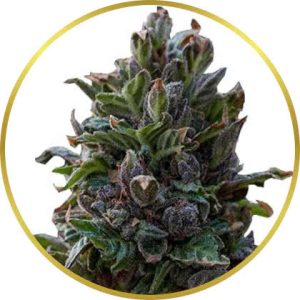 Say hello to the luscious dessert strain that is Purple Punch. This alluring Indica strain is lavishly draped in hues of purple and generously frosted with trichomes, resembling a delectable fruity dessert. Its aroma is a luxurious blend of grape candy, blueberry muffins, and tart Kool-Aid. Known for its calming effects, Purple Punch is ideal for a quiet evening. This strain is also beginner-friendly, growing well in various conditions with a high THC level around 25%.
---
7. Purple Kush Autoflower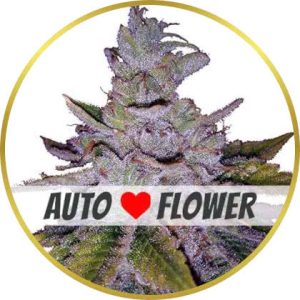 Want the beauty and potency of Purple Kush with less hassle? Look no further than Purple Kush Autoflower. This strain offers the same stunning purple foliage and heavy, relaxing high but is easier to grow thanks to its autoflowering nature. This means it automatically transitions from the vegetative stage to the flowering stage without needing changes in light exposure. With a high THC production (around 22%), it's the perfect choice for growers looking for a simple, hassle-free way to grow quality Indica bud.
---
8. Tropicana Cookies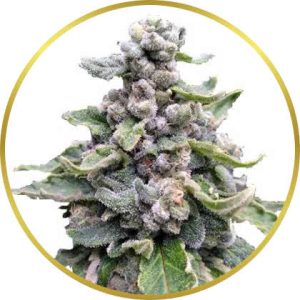 Embrace the tropics with Tropicana Cookies. This Sativa-dominant strain is a colorful marvel, with its lush buds that transition from dark purple to violet under a generous frosting of bright white trichomes. Its aroma is a tantalizing mix of sweet citrus and ripe berries. Tropicana Cookies deliver a clear-headed high and an energetic mood lift, making it perfect for social settings and creative tasks. It's moderately challenging to grow, and with THC levels up to 22%, it's worth the effort.
---
9. Grand Daddy Purple Autoflower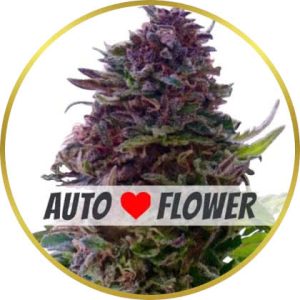 Combine the ease of autoflowering genetics with the delightful properties of Grand Daddy Purple, and you've got the Grand Daddy Purple Autoflower. This Indica-dominant strain retains the sweet, fruity flavors and potent calming effects of GDP, while the autoflowering traits reduce the need for light management, making it an excellent choice for beginners. With THC levels hovering around 23%, this strain provides a significant high without being overwhelming.
---
10. Purple Punch Autoflower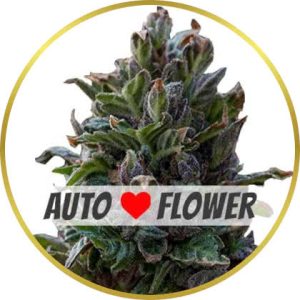 Purple Punch Autoflower is a sweet treat that brings a punch of tranquility. It holds all the delights of the original Purple Punch – luscious grape and berry scent, calming effects, and beautiful purple coloring – but comes with the added benefit of easier growing. Thanks to its autoflowering nature, it requires less effort and expertise to reach its full potential, making it a fantastic choice for newbie growers. It has a high THC level (around 25%) and offers a relaxing high that's just right for winding down.
---